The FIFA World Cup stars in just a matter of hours and I was just going through the favourites list and I realised that many people are picking either Brazil or Argentina to go all the way in this tournament. I suppose that is to be expected since Brazil is playing on home soil and Argentina are due a World Cup win soon, especially with the vast amount of talent they possess.
If you ask me I don't think either of the 2 South American sides will win, heck I'm going to be bold and say I don't event think Germany will win. Spain will always be favourites but their squad is aging and Diego Costa hasn't quite clicked with the rest of the team, David Villa still proves to be the most clinical of the lot but at age 32, I'm not sure you want to depend solely on him.
Wait let's talk about Brazil and Argentina. The Brazilians have placed all their hopes of a 6th world title on Neymar who has had a pretty good season at Barcelona but he still looks light weight to me. The boy needs to bulk up and he's been only so so in warm up matches. I was surprised that Ronaldinho who was crucial in the build up to the World Cup and a resurgent Kaka were omitted from the squad. Such is the cruelty of football I suppose.
Then we have Argentina, brilliant team and for the past few tournaments, perpetual chokers. They are going to find it hard but with their quality they should pull through.
Of course even with what I or any other expert would say, I think everything goes out the window after the group stages, it's probably only then that we will get a clearer picture of how the tournament shapes up. Mind you, do not judge anything after the first match……that's just a bedding phase and it should not count. Jose Mourinho picked England to win. I know what you're thinking…."ya right" Well who's to say.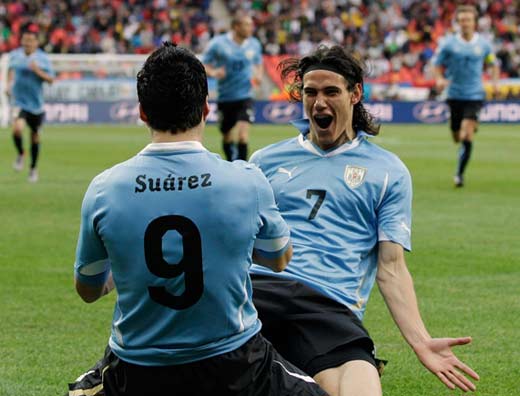 My pick for winner would be Uruguay, it's a pretty damn good team and with a front line like Edison Cavani and Luis Suarez, no wait….a matured Luis Suarez, they are going to be a handful.
We'll re-look at things again after the first 2 group games but for now my picks are Uruguay, Netherlands, Spain and Belgium. Ah yes Belgium, I'm really looking forward to watching them play but we'll get into that next time I write.
Follow me on twitter @ElliottDanker