There's a saying that television can influence what you do with your life, in my case that was nearly very true. Back in school I used to watch a tv show called JAG, which stands for Judge Advocate General in the US Navy.
The show is basically is about the US Navy's legal arm, the lawyers who investigate various cases within the US Navy and enforce Military Law. Although it sounds silly, this show played a big part in the reason why I studied Law.
I was even close to signing with the real thing….yes I nearly joined JAG. Spent lots of time researching and finding out if I, a Singaporean could join the US JAG. I was so influenced and driven by passion for Law, the passion to be in court, to outwit and out-think the defense or even prosecution. I was never the best in terms of grades but when it came to mock trails in school, I was driven by the thrill and desire to win.
I loved every moment of it, even serving my NS I did Military Law. But then for personal reasons I didn't sign with JAG or even locally….I gave it up and moved on. Today I am a radio DJ, still driven by passion and desire.
I recently bought JAG, the tv series on dvd and somehow that same influence which came over me years ago is back. It just happens each time I watch it. Like I said, I know it's silly but haven't we all been influenced one way on another by TV……….it is a powerfull tool, isn't it.
From the very beginning, season 1 of JAG sees the introduction of David James Elliott as LT Harmon "Harm" Rabb and Tracy Needham as J.G. Meg Austin. I'm halfway through this season now and you can see the original "skeleton crew" and how they started of the series with just 2 main actors.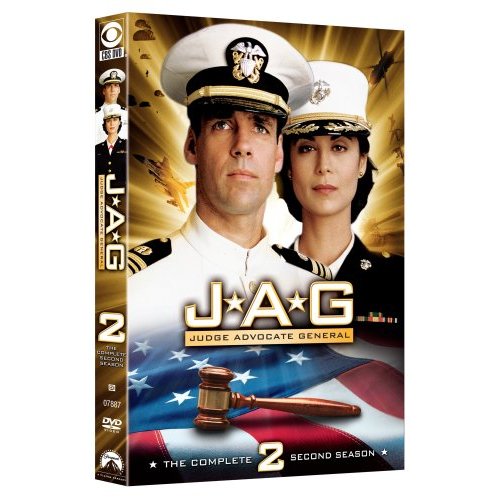 Things change in season 2, Lieutenant Harmon "Harm" Rabb (David James Elliott) is promoted to Lieutenant Commander and is partnered with an attractive marine attorney, Major Sarah "Mac" MacKenzie (Catherine Bell). New cast members in the form of law student Ensign Bud Roberts (Patrick Labyorteaux) and tough but fair Admiral Chegwidden (John M. Jackson).
All in all there are 10 seasons, I expect to complete them…….eventually…..hahahaha! In the meantime check out the opening sequence to the series from season 2.
Don't know about you but this is one of my favourite tv shows from the 90s.
Danker out!